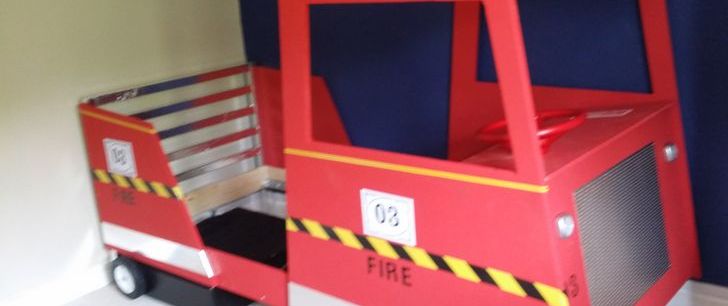 For Jessie's 3rd Birthday, I was asked to make a Fire Engine Bed for him. As you can see, he's well into being a Fireman!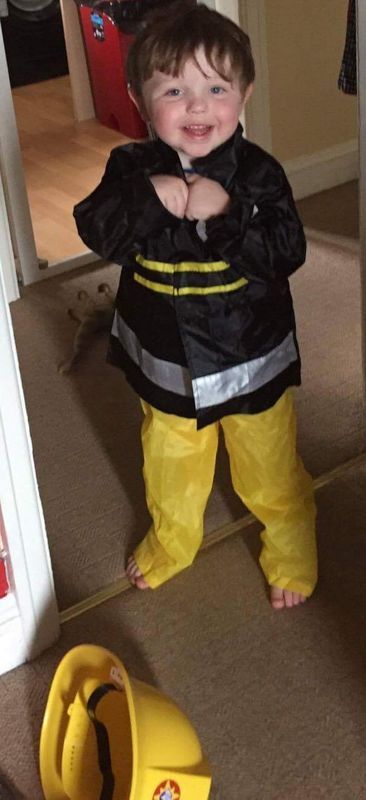 The bed had to have some storage (drawers under, and a box in the cab), as Jessie's room was fairly compact. Unfortunately, the bed was built in situ, so getting far enough back to take good pictures was impossible, but I did the best I could.
The Engine number, J3, displayed on the bonnet, and the 03 decals, serve as a reminder that the bed was built for Jessie's 3rd Birthday.
The bad was based around a standard single bed, allowing the customer to re-use Jessie's existing mattress. Also added were a real stainless steel grille, battery operated headlights, a working blue flashing light atop the cab, and a steering wheel which turns.
The panel with the steering wheel on can be lifted off to access the storage box underneath.
The exposed parts of the bed frame (headboard, Legs, side panels) are all covered with real aluminium for vehicular authenticity, and the rotating wheels on the storage drawers feature real rubber tyres!
The sticker to the left of the steering wheel is a standard HSE fire-fighting instruction sticker.
After the stickers were applied, several coats of clear lacquer were applied to make everything really glossy, and protected.
On custom builds, I like to keep the customer appraised of progress, by sending little teaser images. These will give an indication of what's happening, while maintaining the surprise element of the final product.
In this case, the teasers included the bare door panel, parts being painted, a video of the flashing light, and a picture of the steering wheel in its packaging.